Poems: New and Selected
by
Ron Rash
My rating:
4 of 5 stars
Ron Rash's poetry reads very much like his novels and short stories, people struggling to survive and find meaning in the rural South from before the Civil War through to the present. This collection of his work shows his continuing growth as a poetic voice (the more recent ones, to me, are stronger) while demonstrating that many challenges of contemporary life for the working class - commitment to land, family, and history - are the same as they have been throughout American history.
Black Panther #1
by
Ta-Nehisi Coates
My rating:
3 of 5 stars
An interesting start to a new series by a writer known for his thoughtful essays and politics than for graphic work. His interests show though as T'Challa works to bring his country back together from a terrorist group bent on plunging Wakanda into revolution. The story is political, emotional, psychological, and mystical rather than focusing on action, which is difficult in this format. Still, it was interesting and this feels more like the start of something than a full story. I'd be interested in where it leads.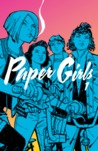 Paper Girls, Vol. 1
by
Brian K. Vaughan
My rating:
4 of 5 stars
In 1988, a group of female paper carriers in suburbia discovers their own intriguing story and have to investigate strange goings-on in the early morning hours as they make their deliveries. Fast-paced, nostalgic, mysterious, and full of heart, this is a fun series and I can't wait for
#2
.
Solitude: Seeking Wisdom in Extremes: A Year Alone in the Patagonia Wilderness
by
Robert Kull
My rating:
4 of 5 stars
As part of his Ph.D. in Interdisciplinary Studies, a man lives in solitude in Patagonia for a full year. This book is an edited version of his journal, interspersed with thoughtful essays about his experience, his spirituality, and his philosophy. He documents the physical and psychological challenges, his reading, and the highs and lows of solitude. Even though he does not reach any huge revelations, I found it fascinating and compulsively readable.
Age of Blight: Stories
by
Kristine Ong Muslim
My rating:
4 of 5 stars
A collection of dark short stories that will haunt long after the reader puts the book down. In just over a hundred pages, Muslim gives us several stories. I was reminded of writers like Kelly Link and Aimee Bender, whose sparse prose gives the often surreal and disturbing settings and action more power. But in some ways, Muslim's stories are even darker and play on some of our most primal fears. Recommended.
Regina Anderson Andrews, Harlem Renaissance Librarian
by
Ethelene Whitmire
My rating:
4 of 5 stars
While some of the details have been lost to history, Andrews was the first African American to head a branch of the New York Public Library. While fighting for equal pay and promotion opportunities, she also became involved with key figures of the Harlem Renaissance, such as Langston Hughes, Zora Neale Hurston, and W. E. B. Du Bois, and helped found the Harlem Experimental Theater. An important biography of an overlooked figure of the Harlem Renaissance and the history of racial integration in libraries.
View all my reviews