April 19th, 2019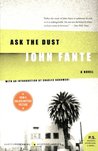 Ask the Dust
by
John Fante
My rating:
4 of 5 stars
Arthur Bandini is a writer in Los Angeles struggling to make ends meet during the Depression. He falls in love with a young Mexican woman who does not love him. She instead loves another man who does not love her. The novel is beautifully written and realized and the characters are young, full of annoying faults, but also very real. Bukowski, appropriately, writes a spirited introduction to this classic California novel.
View all my reviews
Tags:

The Twenty-Ninth Year
by
Hala Alyan
My rating:
5 of 5 stars
A powerful collection of poetry by a Palestinian-American poet as she reflects on a year in her life. The poems highlight the theme of displacement, not just of being of Palestinian descent, but being a woman, being a lover and a wife, being American. Highly recommended.
View all my reviews
Tags:
Latest Month
November 2019
S
M
T
W
T
F
S
1
2
3
4
5
6
7
8
9
10
11
12
13
14
15
16
17
18
19
20
21
22
23
24
25
26
27
28
29
30