Hollow Kingdom
by
Kira Jane Buxton
My rating:
4 of 5 stars
(Rounded up from 3.5 stars)
When the human apocalypse takes hold, S.T., a crow that has been well taught in the ways of (particularly foul-mouthed) humans, must go out on his own with Dennis, a bloodhound, on a quest to survive and find a new life. All the characters in this novel are animals and it has a bunch of strong moments - some funny, some poignant, some dark. However, there were some parts that dragged and some parts that seemed repetitive.
[I received an advanced reader's copy from the publisher. The book will be published August 6, 2019.]
View all my reviews
A Voice Crying in the Wilderness (Vox Clamantis in Deserto): Notes from a Secret Journal
by
Edward Abbey
My rating:
4 of 5 stars
Abbey himself culled through his journals and published works to find this aphoristic collection of quotable passages. More than ever, Abbey's words resonate deeply and this work can serve as an introduction to his ideas.
View all my reviews
Rival Gardens: New and Selected Poems
by
Connie Wanek
My rating:
5 of 5 stars
A beautiful career spanning collection of poetry from a Midwestern poet much like Ted Kooser (who wrote the forward). Wanek's best poems often focus on tiny moments and the things we see everyday but do not focus on (e.g., a bulb of garlic, a game of Scrabble). Highly recommended.
View all my reviews
Lao Tzu: Tao Te Ching: A Book about the Way and the Power of the Way
by
Lao Tzu
My rating:
5 of 5 stars
Late science fiction master presents her take on Lao Tzu's classic work. She calls it a "rendition," as she does not translate Chinese, but uses other translations and interpretations to create one uniquely her own and well suited to modern readers. It's a classic because it speaks to timeless problems and paradoxes of human existence and an important book to read in the age of Trump.
[I received an advanced reader's copy of this reissue from Netgalley. The book is due to be published May 14, 2019.]
View all my reviews
Thoreau and the Art of Life: Reflections on Nature and the Mystery of Existence
by
Roderick MacIver
My rating:
4 of 5 stars
Roderick MacIver uses his watercolor paintings of birds and landscapes amidst a collection of Henry David Thoreau's quotes from his published works and journals. An art book that synthesizes and elucidates Thoreau's philosophy.
View all my reviews
The Singing Bones
by
Shaun Tan
My rating:
4 of 5 stars
The fairy tales of the Brothers Grimm inspire a series of sculptures by the talented artist-author. It's an art book and his take on familiar tales are beautiful.
View all my reviews
Classic Haiku: A Master's Selection
by
Yuzuru Miura
My rating:
5 of 5 stars
A collection of the classic poetry form including major figures like Basho, Issa, and Buson as well as more contemporary writers. The translator (wisely, in my opinion) chose to translate the poems more for expression, not trying to stick to the syllable pattern. The original Japanese is included as well. The poems are divided up into sections based on the seasons and there is biographical information about the poets included. A strong anthology.
View all my reviews

The Twenty-Ninth Year
by
Hala Alyan
My rating:
5 of 5 stars
A powerful collection of poetry by a Palestinian-American poet as she reflects on a year in her life. The poems highlight the theme of displacement, not just of being of Palestinian descent, but being a woman, being a lover and a wife, being American. Highly recommended.
View all my reviews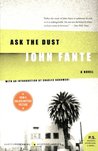 Ask the Dust
by
John Fante
My rating:
4 of 5 stars
Arthur Bandini is a writer in Los Angeles struggling to make ends meet during the Depression. He falls in love with a young Mexican woman who does not love him. She instead loves another man who does not love her. The novel is beautifully written and realized and the characters are young, full of annoying faults, but also very real. Bukowski, appropriately, writes a spirited introduction to this classic California novel.
View all my reviews
At the Great Door of Morning: Selected Poems and Translations
by
Robert Hedin
My rating:
5 of 5 stars
A career-spanning collection of poets by a wonderful poet of the Midwest United States who has also translated the poems of strong Norwegian poets. This collection includes both his originals and his translations with his precision for observation and language. A wonderful introduction to a vastly underappreciated poet.
View all my reviews