Then Come Back: The Lost Neruda
by
Pablo Neruda
My rating:
5 of 5 stars
Twenty-one previously unpublished poems discovered by the Neruda estate. Any book like this is always questionable, as the translator points out, as it could simply be notes or ideas marketed as lost work, but that's clearly not the case here. While Neruda may not have felt these poems complete and a couple of them indicate that by ending in commas, the poems are beautiful and touch on Neruda's themes. The book includes the poems in both English and the original Spanish, along with some scans of some poems in Neruda's own handwriting. A very worthy addition to Neruda's oeuvre and highly recommended.
View all my reviews
Crow With No Mouth : Ikkyu : Fifteenth Century Zen Master
by
Ikkyu
My rating:
4 of 5 stars
A collection of the poetry of the 15th century Zen poet who mocked other practitioners of Zen while frequently sake houses and brothels. His poems are at times bawdy, at times full of wisdom, at times simple reflections on a simpler way of life. An excellent introduction to this important and influential poet.
The Rain in Portugal: New Poems
by
Billy Collins
My rating:
4 of 5 stars
A new Billy Collins collection is always cause for celebration. The poet's trademark humor and spirit are in evidence here, particularly when he talks about his own work (the title is a hint of Collins's not being a rhymer) but there's a bit of long windedness here and less of the humor than usual. A good collection as Collins is a great poet, but not his best.
[I received an advanced e-galley of this book from Netgalley. This book is due to be released October 4, 2106.]
View all my reviews
The Last Usable Hour
by
Deborah Landau
My rating:
4 of 5 stars
A very urban voice (NYC) talks of desire, memory, and doubt. Often speaking to an otherwise unidentified "someone," these poems speak with yearning, passion, and sometimes desperation. Not as strong as her more recent effort
The Uses of the Body
, but definitely a strong voice.
Night Sky with Exit Wounds
by
Ocean Vuong
My rating:
5 of 5 stars
Vuong, born in Vietnam, now living in the United States, has a playful voice and ear, even as he touches on the most personal and devastating of subjects - love, sex, family, war, memory, grief. His imaginative wordplay gives way to emotional depths and stirring revelations. A truly amazing poetic voice. Highest recommendation.
View all my reviews
The Fireman
by
Joe Hill
My rating:
3 of 5 stars
A disease called Draco Incendia Trychophyton, commonly known as Dragonscale, becomes a worldwide epidemic. The disease marks the skin in black and gold and eventually causes its victims to spontaneously combust. Harper Grayson is a nurse who helps those with the disease and contracts it herself just before discovering she is pregnant. Her marriage and her life hang in the balance as she meets the Fireman, a man with Dragonscale who appears to manage the disease, causing parts of him to burn in a controlled manner. The book has many exciting and scary moments, but those were diluted by long stretches of material that I did not find interesting. I wanted to like it more than I did.
[I received an advanced copy of this book from the publisher.]
View all my reviews
Cows
by
Matthew Stokoe
My rating:
4 of 5 stars
By far, one of the most disturbing books I have ever read. Stephen lives with his awful mother (the "Hagbeast") who continually punishes him for the injuries sustained during labor. Stephen dreams of life like he sees on TV, a wife and kids. Soon, he gets a job at a slaughterhouse and becomes involved with one of his neighbors, a young woman who is convinced we are all full of poison, and becomes convinced his dreams can become reality. Graphic, violent, and disgusting, this novel is not for the faint of heart or stomach. But it is not simply shock value, there is a story here, a sad one about sad people desperately searching for something else to make their lives seem worthwhile.
View all my reviews
On Cats
by
Charles Bukowski
My rating:
4 of 5 stars
Despite his curmudgeonly persona, Bukowski loved cats, adopting strays. They served as companions and muses for him and this book gathers much of his writing related to cats. Cats are often, but not always, the subject of the poems and short prose pieces here, but the occasional piece merely mentions a cat or two. Like any collection centered on a subject some of the pieces are stronger than others but overall it presents a fitting tribute to Bukowski and one of the loves of his life.
View all my reviews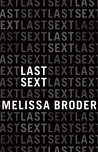 Last Sext
by
Melissa Broder
My rating:
5 of 5 stars
Although the poems in this collection are not for everyone, they stir a lot of different dark feelings and issues - confusion, identity, sex, sensuality, mortality, power, love. There are no clear answers here, only exploration, but the yearning in these poems is powerful.
[I received an advanced e-galley of this book from Netgalley. The book is due to be published June 13, 2016.]
View all my reviews
Slouching Toward Nirvana
by
Charles Bukowski
My rating:
4 of 5 stars
Classic Bukowski. One of the many posthumous collections, but one that captures a lot of Bukowski's thinking in a very readable volume. For fans, this book is essential reading; for newcomers, this book is a great introduction.
View all my reviews
During
by
James Richardson
My rating:
4 of 5 stars
Richardson's love of wordplay and aphorism is in full bloom here in this collection. There is a playfulness in his approach, even as he touches on dark subjects, that makes the work enjoyable, light, and pleasurable. He is very willing to turn ideas and images on their heads to make the reader see them from a different perspective. A solid collection.
Appalachian Elegy: Poetry and Place
by
bell hooks
My rating:
3 of 5 stars
A collection of poems inspired by hooks' childhood in Kentucky. Some of the things that best serve her prose writing are a bit of a disservice in poetry. She clearly has a love and appreciation for language and her roots, but the poems read a bit like memories without much nuance or metaphor. They simply paint pictures.
View all my reviews
Darkness Sticks to Everything: Collected and New Poems
by
Tom Hennen
My rating:
5 of 5 stars
Hennen was largely unknown until this book gathered his earlier work published by very small presses along with some new poems and exploded on the scene. The book includes an introduction by Jim Harrison. Hennen writes about the Midwest in all its beauty and starkness, the people, the animals, and the land. It is devastating in its beauty and its ability to capture the awesome sense of physical and emotional space, whether the poems are short verse or longer prose poems. Highly recommended.
View all my reviews